Oly-Ola Edgings, Inc. is a leading producer of commercial-grade 100% recycled paver restraint, landscape edging and roof garden edging products for landscape architects and contractors .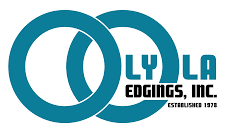 Our 2017 marketing communications strategy includes a variety of lead generation and customer retention tactics.
Lead generation tactics:
listings on buying networks and building products platforms
comprehensive Google AdWords program
Customer retention tactics:
active social media presence
memberships in targeted associations
email marketing program for trade show follow-ups, special offers, product information and other company communications.